Nakagin Capsule Tower(水曜日の定期ツアー)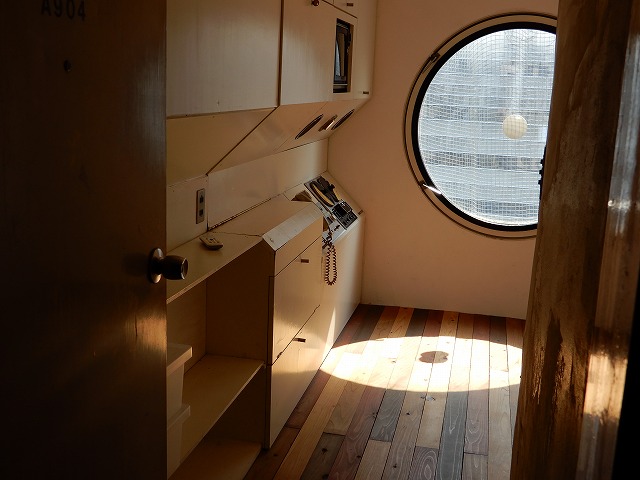 残念ながら、2021年11月以降はこのツアーは催行できません。
オンラインツアーにご興味がありましたら、お問い合わせください。
Unfortunately, we will not be able to offer this tour after November 2021.
If you are interested in an online tour, please contact us.
Leider können wir diese Tour nach November 2021 nicht mehr anbieten.
Wenn Sie an der Online-Tour interessiert sind, kontaktieren Sie uns bitte.
Among all the modern and contemporary works by world-renowned designers in Tokyo, Kisho Kurokawa's Nakagin Capsule Tower constructed in 1972 probably is the most iconic architecture of the 20th century. It's most striking feature of 4 x 2.5m size capsules stacked up high is the prime example of the "Metabolism architecture movement" advocated by a group of young, avant-garde Japanese architects, including Kurokawa during the high economic growth period in Japan.
On this tour, we will visit a couple of beautifully renovated capsules with the original amenities, such as a 45 year old Sony TV and open reel tape deck attached. Since the capsule appeared in the "Heroes Reborn" TV mini-series in 2015, many intrigued fans from all over the world started visiting this building but internal observation without special arrangement is usually not accepted, therefore please don't miss this chance to discover Nakagin Capsule Tower and experience what the future looked like back in 1972.
This tour is supported by the Nakagin Capsule Tower Preservation & Restoration Project and part of the tour fee will be donated to support the Project.
Date and Time

Every Wednesday,14:00start(One hour tour)

Meeting point

In front of Nakagin Capsule Tower

End

In front of Nakagin Capsule Tower

Price of Nakagin Capsule Tower Tour

5,000JPY for 1 person (MAX 5 persons)

*including guide fees (English)

Cancellation Policy

14-3 days before the program day: 20 % of the program fee
2 days before the program day: 50 % of the program fee
One day before, on the departure day, or cancellation without notice: 100 % of the program fee

Advice of this tour

Many people live in the Nakagin Capsule Tower. Therefore, we ask for silence.
Please follow the instructions of the tour guide.