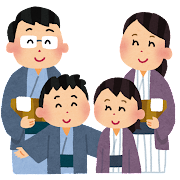 Japanese-style ryokan are charming and nice, but there are manners to be aware of.
Even Japanese people (especially young people) may not know the manners if they do not have a chance to stay at a ryokan.
If you have any questions, don't be shy to ask the ryokan staff.
Let's start with an explanation of tatami rooms.
It is natural to take off your shoes and slippers before entering the room, but please do not put your bag with wheels on the tatami.
Tatami will be damaged and replacing tatami will cost a lot of money.
It is best to place them on wooden flooring or in the entrance space.
The space slightly higher than the tatami where a vase or a hanging scroll is hung is called "Tokonoma" (alcove) and is a shelf for decoration.
It is bad manners to put your bag here.
Most of the time, flowers are arranged and the room is clean, so it is best to look at them and enjoy them.
A tea set is provided on the table.
Put the tea leaves in a Kyusu (teapot), pour hot water, wait a little, and pour it into Yunomi (cup).
If there is a container with a hole in it, it is used to store used tea leaves.
There are usually sweets available, so don't hesitate to eat them.
Nakai-san (ryokan room attendants) sometimes come to your room, so it would be embarrassing if you leave your belongings in a mess.
It is a good idea to leave valuables in the safe.
Futons are prepared by Nakai-san when guests are not in their rooms for bath or meals.
Sleeping on futons on tatami mats is a unique feature of Japanese-style rooms.
You do not need to put the futon away after you have finished using it.
At ryokans, all guests wear yukata (light cotton kimono).
A yukata, obi, and, depending on the season, a tanzen (jacket) are provided in the room.
The yukata is like a uniform in a ryokan, and is worn in the room, when sleeping, and even when going to the bath.
Yukata is worn in the room, when sleeping, and even when going to the bath.
Most ryokans are fine to wear a yukata for meals as well, but in rare cases, it is not allowed in high-class ryokans.
Yukatas are the property of the ryokan, and should be folded near the futon before checking out.
Amenities include hand towels with the ryokan's name on them and a toothbrush set.
Towels with the ryokan's name and toothbrushes can be taken home with you.
However, large items such as bath towels are ryokan equipment and should be returned after use.
Tipping is also not a common practice these days, but my grandmother used to give a 1,000-yen bill wrapped in a piece of paper to the Nakai-san.
Perhaps because I was small, she thought it would cause trouble for the ryokan.
In Japan, there is also a culture of "Kokorozuke" (Tipping).